Weekly series!
Welcome to a great new way to compare notes, pick up some helpful tips for your next Disney visit, and discover some fantastic Disney bloggers! Each week I will be highlighting an interview with a certified, pixie dusted fan of The Mouse.
WARNING: Their enthusiasm for all things Disney is, in fact, quite contagious! So come along for the ride with us ... you may learn something new, and it's sure to put a smile on your face as you read about the good, the really really good, and the "you absolutely can't miss this...."!
*o* *o* *o*
This week: Delightfully Disney!
Tell us a little about you, and your website (blog).
Hey, My name is Jackie and I am the owner/author of the blog
Delightfully Disney!
Delightfully Disney is a family travel blog focusing on all things Walt Disney World! I started going to Walt Disney World when I was just a little girl and now get the pleasure of enjoying it with my husband and daughter and occasionally my parents as well! I am a young wife and mother and I love sharing the perspective of going to Disney as such a young family. I like to blog about tips and tricks once you are at Walt Disney World, planning and travel advice, the Disney Dining Plan ( I run a snack of the week series, showing how to use your Disney Dining Snack Credits more effectively), Resort Information. Really, I blog about the whole Disney experience from start to finish and strive to make your trips more....
Delightful!
Which is your favorite Disney Park, and why?
In my heart of hearts Magic Kingdom is my favorite Park. It is so iconic and just screams Disney! The Castle is literally breath taking. But, if I were to be totally honest I would have to say the true answer is probably Hollywood Studios. My family seems to always have the best day of our vacations at that park!
Top 3 characters you'd like to meet on an ideal day at Disney:
I love all the characters, and my daughter who is 4 is all about getting the autographs right now! If I were going to meet 3 characters on a perfect Disney day they would be Minnie Mouse because she is my favorite, and Ariel and Rapunzel because those are my daughters favs! But I think Prince Eric is really cute - so meeting Ariel is a bonus for me too :)
Your 3 favorite Disney attractions, and why you love them.
All the attractions at Walt Disney World are really fun and unique but naturally I have my favorites. My very favorite attraction is The Magic Carpets in Magic Kingdom. My whole family can ride this ride time and time again! I love when the camel spits at you. It may be a simple ride but if you can't have fun on it - where can you?! I also love Rock "n" Roller Coaster because it is so fast. I generally don't like roller coasters but the Disney ones are "different." And I really love Dinosaur at Animal Kingdom. It is one of the rides I remember riding when I was little and it first open. So I like carrying on the tradition of riding it time and time again!
Favorite time of the year to visit?
My favorite time to visit Walt Disney World is in the fall. The temps are generally a little cooler, but you can still swim. School is back in session so you don't have the high crowd levels that you do at other times of the year! You can literally get off Tower of Terror and walk right back on.. it is amazing! There are also so many great events going on during the fall.
The Park snack your day is not complete without.
On Monday's I have a series called
Snack of the Week
. There is so much more to snacking at Disney than just popcorn and pop! Here are my favorite snacks at each park:
Magic Kingdom: Dole Whip and Churro with a Jumbo Cinnamon Roll close behind - don't forget to ask for the extra scoop of icing!
Epcot: Fresh and warm Caramel Corn at Karamell Kuche
Hollywood Studios: Carrot Cake Cookie and Butterfinger Cupcake
Animal Kingdom: Frozen Coke and Jalapeno Pretzel
Downtown Disney: Goofy's Glacier (Frozen Coke) and Chocolate covered marshmallows on a Mickey straw
Favorite Character Meal?
My favorite Character Meal is the Donald's Safari Breakfast at the Tusker House in Animal Kingdom! This is a very low key meal and you get a lot of time with each character. You also get a special picture taken with Donald and there is a really fun parade for the kids! The buffet is amazing. Along with the tradition breakfast buffet food there is a lot of non tradition items to choose from! The Cheese Blintzes with the Apple Topping are amazing and I literally load my plate up with them! This is also a great breakfast to schedule before the park opens! That way when you are finished eating and the park has officially open you can head straight to the Safari with literally no wait time!
Top 3 Disney Property restaurants you like to eat at
Disney Dining could be a whole vacation in itself, in fact we make it a big part of each of our trips! 'Ohana at the Polynesian is our absolute favorite place to eat dinner while on vacation! In fact we eat there the first night and last night of each long trip! If you get a reservation around 8pm you can catch the fireworks from Magic Kingdom while you are enjoying dessert! Be sure to ask for a window seat! My favorite counter service restaurant is a tie between Earl of Sandwich in Downtown Disney and La Cantina de San Angel in Mexico!
How do you keep the Pixie Dust flying at home, in between trips?
Keeping the "magic" alive between trips is a big part of our family life! We are constantly planning out next trips together. Each person who is going on a Disney trip with us, no matter the age, gets to pick one restaurant they really want to eat at. No complaints. So we are always talking about where we are going to eat next and what snack we can't wait to have first. We play Disney trivia as a family daily! My 4 year old knows so many facts about Walt Disney World it is amazing! Sometimes we make up our own trivia questions and sometimes we play the trivia app on the iPad! I also make my daughter special things to wear for our trips so I am constantly sewing Disney outfits or making something fun for her! We recently made a Rapunzel tv tray at her request! So we incorporate Disney a lot in our crafts we do at home!
Any tips for people planning their 1st trip to Disney?
I have a lot of tips for first timers! But my best piece of advice is to go into a Walt Disney World vacation knowing that there is always more to see. The chances of you seeing everything at Disney on your first trip are really slim. It can really be overwhelming! So pick 5-8 must do's at each Park depending on how old your kids are. Do those first! Then let the day set the tone for itself. If it's really hot and you and your kids would rather go to the resort and swim.. go for it! That way you are not disappointed in ending the day early if you have already done your must do's!
How long have you been blogging about Disney?
I have been blogging about 10/11 months now about Disney on my website
http://www.delightfullydisney.com
! Before then I had blogged on and off about various topics but none of them really stuck. I have experienced huge growth this past year on my website and I truly value each of my readers!
Do you take your own pictures, and if so – any tips for getting good shots?
I do take my own pictures, and you can tell. That is one area I would really like to grown in this year. But, in my defense, you don't need a fancy camera to take really good pictures at Walt Disney World, it definitely helps but a point and shoot is just fine! Some of my favorite shots come from my iPhone!
Where do you find inspiration for blog topics to feature?
I find inspiration for blogging in a lot of things! We take a few trips to Walt Disney World a year, so I am always pulling from things we have seen and done on latest trips! I also try to go back to the basics! Planning a Walt Disney World vacation is a lot of work and can be stressful if you haven't done it before. So I try to put a lot of information on my site that is going to help first timers. I also like sharing little tips I have picked up here and there - like about getting to the Tusker House breakfast early so you can get to the Safari with no wait time.
What is your motivation to keep blogging – or any final advice to share?
I blog about Disney because I love it! Disney such a fun vacation that keeps changing! No two vacations are exactly alike and that is why I love it! I really believe people that don't like Disney only feel that way because they were under prepared for their vacation. So if I continue to blog and put content out to help people plan a more delightful vacation I feel like I can change their minds. I want people to see a side of Walt Disney World that isn't as high maintenance as it can be portrayed. It is truly a magical vacation that I love. I have had so many wonderful memories with my family at Walt Disney World and I am so grateful because of it!
I had a couple of extra questions for Jackie, since I knew she had just run a half marathon this January at Disney, and wanted to hear more...!
Jackie and her mom in their Minnie Mouse runDisney costumes this January
Please explain a little about what "runDisney" is?
RunDisney
is a series of amateur races. They put on all types of events from Full Marathons to 5ks and even children's races!
RunDisney
events are for everyone to participate in, from runners to the chEAR squad!
I know you recently ran in one of these events - can you tell us a little about your experience?
I participated in the half marathon over the marathon weekend. It was my first half and I was pretty excited and nervous. To be honest I didnt train at all- I don't recommend that :). It was really fun! If you are considering doing a race runDisney is the way to go! You can even wear cute costumes while you run which adds to the excitement!!
Thank you so much for interviewing me! It was my pleasure sharing a little more about myself and my blog with you today! Please follow me on my facebook page -
Delightfully Disney
and on twitter -
@delightfullyWDW
.
*o* *o* *o*
What did I tell you - her enthusiasm is contagious, isn't it? You can experience even more fun with Jackie at her site, Delightfully Disney!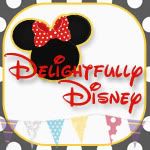 Next week's Disney guru:
Disney Babies Blog
Read more on these other Disney guru posts: