Weekly series!
Welcome to a great new way to compare notes, pick up some helpful tips for your next Disney visit, and discover some fantastic Disney bloggers! Each week I will be highlighting an interview with a certified, pixie dusted fan of The Mouse.
WARNING: Their enthusiasm for all things Disney is, in fact, quite contagious! So come along for the ride with us ... you may learn something new, and it's sure to put a smile on your face as you read about the good, the really really good, and the "you absolutely can't miss this...."!
*o* *o* *o*
This week: Disney Babies Blog Jennifer!
Jennifer and family - at private "Disney Visa Character Meet 'N Greet"
Tell us a little about you, and your website (blog).
Hi, I'm Jenn and I'm a Disney addict! I grew up going to WDW on a regular basis - family is from Florida and while we didn't always live there, we went regularly and my parents moved back my 2nd year of college. The addiction and regularity began then when I started going with friends 2-3 times a year at least!
When my son was only a couple months old, my closest friend and I decided to plan a trip to the world with both of our families. Her daughter would be 1 and my son 6 months at the time of the trip. We googled and scoured the internet looking for tips and tricks for visiting with infants and all I could find was "wait until they're older." That sparked my decision to start the blog - hoping to convince other parents that though they may not remember the trip, they'll have an amazing time. And they're free, so why not! Since then, my blog has sparked my interest in Disney history and trivia which I love to share with other Disney fans!
Which is your favorite Disney Park, and why?
I've only been to Walt Disney World and while I absolutely love Epcot, a trip isn't complete without the Magic Kingdom. My college days was filled with day trips to only the MK and I never feel the magic as strongly as I do when I'm walking down Main Street, U.S.A.
Top 3 characters you'd like to meet on an ideal day at Disney:
I didn't start meeting characters until my son was born - it's always Mickey and Minnie for us, with the hopes of Pluto on our upcoming trip. If it was all about me, I would choose Mary Poppins, Peter Pan, and still Mickey. I love that Mouse!
Your 3 favorite Disney attractions, and why you love them.
Peter Pan tops my list - The story, colors, and flying experience just transport me to my absolute happy place.
Soarin' - I won't wait for 2 hours for this one (or any attraction really), but the music, story, and again - the flying feeling. I just love it!
Splash Mountain - It's not the drop, but the music and story. The music is probably some of my favorite from all of Disney
Jennifer meets the Mayor of Disney Mainstreet USA
Favorite time of the year to visit?
Marathon Weekend! We're headed down for our 2nd trip, but the temperatures are great and the crowds are insanely low.
The Park snack your day is not complete without.
I'm not the standard park snacker - The dole whips are okay, but not really my thing. I like the Mickey bars, but not when it's cold! I'm a pretzel person. My favorite so far is the Bavarian Pretzel from the Germany Pavilion, but we have a few others to try on our list!
Favorite Character Meal?
So far, we've only experienced the Hollywood 'n Vine Play and Dine which was great, but I'm really looking forward to Donald's breakfast at Tusker House in Animal Kingdom. The Fab 5 with some unique food - should be a great experience!
Top 3 Disney Property restaurants you like to eat at.
Kouzzina by Cat Cora at Disney's Boardwalk has a must on our past several trips. I love Greek food and the Food Network, so it was a must try.. then I fell in love with the Boardwalk, so it's a win on all levels!
Sunshine Seasons - okay, so we've only actually been there once, but it was far and away the best counter service we've had at Disney. The food wasn't just good for Disney food, it was actually good. And the fact that they grow a lot of their own vegetables makes it even better!
World Showcase - okay, so this one is a cop out. But really, I love experiencing the different foods around the World. We've been lucky and had great experiences at several different pavilions.
How do you keep the Pixie Dust flying at home, in between trips?
I love listening to Disney podcasts - top 3 are WDW Radio, WDW Today, and Wedway radio as well as Disney radio stations - I switch a lot but there is only 1 app for Android right now, so I'm sort of stuck when I'm on my phone! Plus, I love showing You Tube videos to my 2 year old in hopes that he'll be even more excited when he sees them in person.
My husband has joined in on the fun and he makes pancakes shaped like Mickey, cookies, etc..
Any tips for people planning their 1st trip to Disney?
Plan but don't over plan. I swear by Touring Plans crowd calender to plan a trip and while I like making ADR's, I've definitely fallen victim to over planning. Pick some possible dates, find a Disney travel agent, and start reading up. And, don't hesitate to ask questions! There are tons of us bloggers who love helping as well as all the podcasters who constantly do listener questions. And don't expect 100 roller coasters - it's a theme park, not just 6 flags!
How long have you been blogging about Disney?
Over a year and a half. Since June 2010. Crazy!
Do you take your own pictures, and if so – any tips for getting good shots?
I do with a simple point and shoot. For good shots, check out
focusedonthemagic.com
- she's a great photographer!
Where do you find inspiration for blog topics to feature?
Sometimes it is REALLY hard! I ask my readers on facebook at least once a week which sometimes gets some topics. When we visit, I try to make a list of possible topics, take lots of pictures, and go from there.
What is your motivation to keep blogging – or any final advice to share?
A lot of my motivation comes from other bloggers - the Disney community of bloggers has some amazing people and I'd like to think we help motivate each other. We sort of communicate through our blogs and supporting each other. I definitely get down on the idea sometimes, but I feel like I lose contact with friends when I stop reading and writing. So, keep just keeping writing!
But there is one final point of advice - they're, their, and there as well as your and you're are different words.. My husband always points out my errors, so I've tried to become a better proof-reader.. but simple grammar mistakes can definitely be a turn off!
*o* *o* *o*
Thanks so much for your fun ideas and sharing your "favorites" with us, Jennifer! You can experience even more Disney goodies at her site, The Disney Babies Blog! Be sure to check it out .... especially if you have wee ones you are thinking of taking to Disney.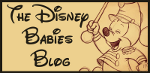 Next week's guru:
The DVC Mom
!
Read more on these other Disney guru posts: