Weekly series!
Welcome to a great new way to compare notes, pick up some helpful tips for your next Disney visit, and discover some fantastic Disney bloggers! Each week I will be highlighting an interview with a certified, pixie dusted fan of The Mouse.
WARNING: Their enthusiasm for all things Disney is, in fact, quite contagious! So come along for the ride with us ... you may learn something new, and it's sure to put a smile on your face as you read about the good, the really really good, and the "you absolutely can't miss this...."!
*o* *o* *o*
This week:
DisneyBlueFairyShare's Ariel Snow!
Ariel on her 24th birthday with Princess Jasmine
Ariel used to be a Cast Member at Disney World! So we're talking to a girl with alotta Mickey face time here! Find out which ride she used to head to after work each day, and what her absolute favorite treat was (it was something I hadn't heard of!)...
Tell us a little about you, and your website (blog).
I am Ariel Snow, former Disney Cast Member at Walt Disney World back in 2003. I love all things Disney along with my husband and stepson. I started my Disney website in May 2011. I called it DisneyBlueFairy Shares. I started posting mostly my magical moments down at Walt Disney World, but now I have other Disney Fans who post their Magical Moments on the weekends at my Disney blog. I am also a writer over at WDWdads website where I try to post every other week.
Which is your favorite Disney Park, and why?
My favorite Disney Park would be Magic Kingdom. This was the park that I worked at when I was at Walt Disney World. I worked in Liberty Square and enjoyed being part of the Magic every day!
Top 3 characters you'd like to meet on an ideal day at Disney:
Little Mermaid for she has been my favorite since I was nine. I have only met her twice so far. Tinker Bell because I haven't met her yet, only have seen her fly over the castle at Magic Kingdom. Stitch would be the third for he is such a fun character and my stepson loves him too!
Ariel's stepson enjoying a moment with Stitch
Your 3 favorite Disney attractions, and why you love them.
Space Mountain, for it was the attraction that I would visit everyday after I got off of work at the Magic Kingdom.
Test Track, for I love the ending when you travel outside, flying by everyone, and yelling at the top of your lungs with excitement.
Rock 'n' Roller Coaster for I love how the stretch limo starts off going 60 miles per hour and listening to Aerosmith all the way is awesome!
Favorite time of the year to visit?
My favorite time to visit Walt Disney World is when Epcot has the International Flower & Garden Festival. This year it starts March 7th through May 20th. Almost every time I go to visit Walt Disney World, I go during this time to see the flowers and Disney character topiaries. It's such a beautiful time of year at Epcot!
The Park snack your day is not complete without.
The strawberry tart in France at Epcot! I always have to have it when I visit. It's one of my favorite highlights of a Disney Trip and I have been eating a tart from France since 2003 when I worked at Disney. If you haven't tried a treat from the France bakery then I suggest you go in there next time!
Favorite Character Meal?
Chef Mickey's was my favorite character meal so far. Of course it could be because it was the only character meal where I had a child with me to enjoy the fun with! I loved watching my stepson has a blast with Goofy, Minnie, Donald, Pluto and Mickey. Plus I loved buffet!
Ariel with her entire family at Chef Mickey's - including sister and fiance!
Top 3 Disney Property restaurants you like to eat at.
The Columbia Harbour House at Magic Kingdom because I love fish and claw chowder. At the CHH they serve all assorted sandwiches and everything is quite good! I love the coziness too!
Marrakesh in Morocco at Epcot for the lamb, chicken and couscous! Plus I loved watching the belly dancing!
50's Prime Time Café because of the "comfort foods" that is offered from the "Mom" that comes to serve the table. Plus I loved the sundae!!
How do you keep the Pixie Dust flying at home, in between trips?
I love to Disney blog, paint Disney pictures and have started having Disney parties. When one trip to Disney World is sadly over, I start planning the next one. Just today I watched a video on Disney with my stepson as we talked about what we wanted to do on our next trip. We have so much fun planning!
Any tips for people planning their 1st trip to Disney?
Here is one number one tip: You will not see everything on your first trip and that's ok. Just enjoy yourself, take your time to experience each park and when you get home, start planning what you would like to do on the next trip. Number one key is to always have fun on your Disney trips.
Do you take your own pictures, and if so – any tips for getting good shots?
Me, my husband, my stepson, my parents and others family members pictures are what I mostly use in my blog. Getting a good shot is seeing the moment and snapping it! I also have used Disney clip art that has been found on the internet.
The Disney Internship is when Ariel graduated from the College Program at Disney World
Where do you find inspiration for blog topics to feature?
Since I have worked for Walt Disney World back in 2003, I feel that most of my inspiration comes from when I was a cast member. I enjoyed being part of making magical moments happen for guests that entered Magic Kingdom. I now enjoy being part of magical moments as a guest and making them happen for my stepson too.
What is your motivation to keep blogging – or any final advice to share?
What motives me to keep blogging is my love for Disney. I just feel closer to the Magical Land where Fantasy Lives when I am writing about Disney, sharing stories and pictures with other Disney Fans.
And since Ariel was part of the Disney College Program - I had to also ask her to explain a little about what this entails?
The Disney College Program is based out of colleges from around United States. Each semester around 7000 students get picked to go work for WDW and live on Disney Property with other students. You get to work at Disney World and take classes at the Disney institute. It was a great experience! This is the website....
http://cp.disneycareers.com/en/default/
if you would like to learn more.
*o* *o* *o*
You can find more with Ariel here ... including her fabulous series "Magical Memories"!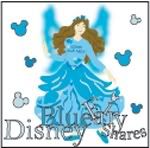 *o* *o* *o*
Like the series?
Read more on these other Disney guru posts: